Our Expertise of Stainless Steel Casting
We are very experienced in stainless steel casting. With strong capability of casting a wide variety of stainless steel alloy, we provide custom stainless steel casting parts and components for industries and applications including automotive, food & dairy, machinery, medical, plumbing, watering, mining, petrochemical, electrical, energy, aerospace, submarine and others. We can assure you high quality stainless steel castings. The sizes of the stainless steel casting parts range from 0.1 inch up to 24 inches. The weights of the stainless steel casting parts are from an ounce to 50 pounds. Typical tolerances are ± .005" per inch.
We work with our customers to assure that the stainless steel casting products/components can be manufactured with the desired characteristics in the most cost effective manner. Using simulation software to provide a "virtual prototype" we can begin to optimize the design prior to supplying products/components for design validation. We strive to be our customers' best stainless steel casting supply chain partner.
For your stainless steel castings needs, we can help you out.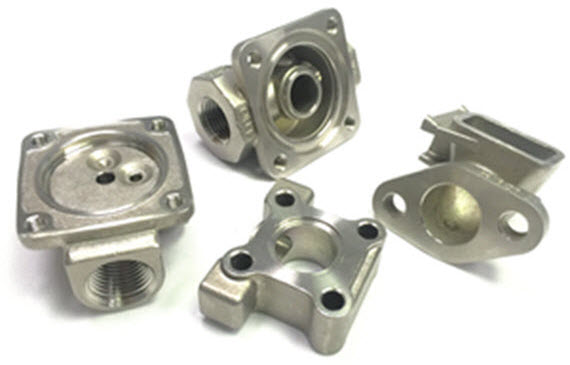 What Is Stainless Steel Casting?
Stainless steel casting, also called stainless steel investment casting, refers to the formation of ceramics around a wax pattern to form a shell for casting stainless steel. Once wax patterns are created, they are melted into the gate system, immersed in slurry and sand to form a layered shell, and then replaced by molten stainless steel.
How are Stainless Steel Castings Made?
Stainless steel casting involves creating an original wax model, building the image with plaster and successive layers until a strong shell surrounds the model. After melting the wax, pour the molten stainless steel into the mold to create a perfect replica of the original wax pattern. Stainless steel casting provides economical undercutting, high resolution, sophisticated detail and smooth surface finish compared to machining separations.
In most cases, stainless steel casting is the only way the part can be made economically.
Watch the video of our investment casting foundry to learn how stainless steel castings are made. Video also available on youtube.com.
Advantages of Stainless Steel Casting
Sizes: 0.1 in to 24 in
Weights: a few grams to more than 50 pounds
Surface: very smooth finish
Tight tolerances
Reliable process controls and repeatability
Design and casting versatility
Efficient production
Affordable tooling
Material variety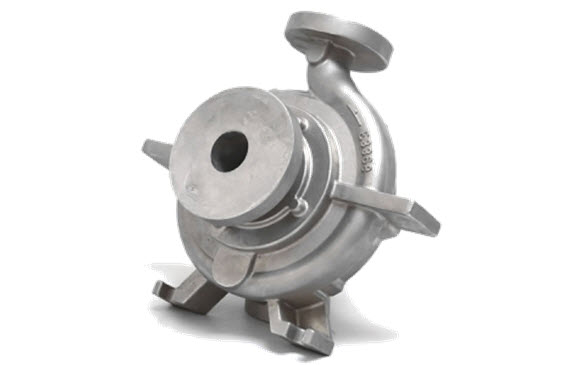 Stainless Steel Casting Material Information
Material
Grade
Common Application
Stainless Steel
304
Housings, bodies. SS304 is widely used in medical, plumbing, watering, mining and petrochemical industries as the standard for cleanliness as well as corrosion resistance.
316
Housings, gears, plates. Superior corrosion resistance of SS316 makes it ideal for many applications including automotive, food & diary and petrochemical environments.
304L/316L
Similar to other 300 series steel, low carbon makes it softer but more corrosion resistant. Ideal industries are such as food & dairy, medical and petrochemical.
410 & 416
Housings, bushings, handles, brackets. 400 series steels are high strength and very machinable. They will tend to break rather than bend under intense pressure. Ideal industries are automotive, food & dairy and various machine tools.
17-4
Very strong. Can be used in military, various machine tools etc.
Secondary Operations and Treatment of Stainless Steel Casting We Offer
High precision machining
Polished zinc plating, nickel plating, electroplating, chrome plating
Anodizing, phosphating, acid treatment, polishing
Broaching, milling, drilling, tapping
Surface grinding, sand blasting, powder coating
Heat treatment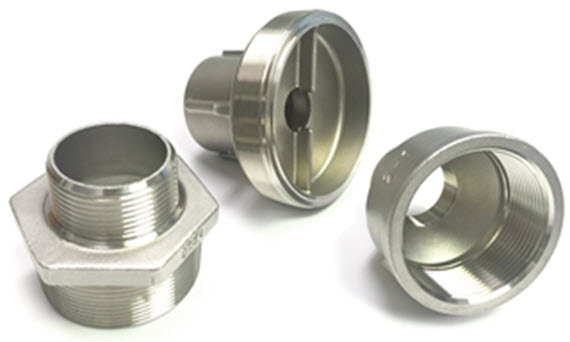 Stainless Steel Casting Parts
Our Internal Resources for Die Casting, Investment casting, Forging and Sand Casting